Storage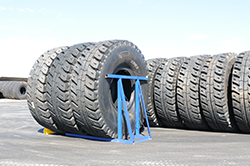 Tytec Logistics employs a first
in first out policy ensuring that older stock is delivered first
Storage

Procedures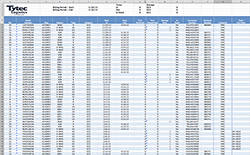 Inventory
Tytec Logistics have developed our own dedicated system of inventory control. Centrally maintained daily and forming the basis of weekly stock takes.
Given that we currently provide OTR tyre logistics & storage services to a number of significant mining companies and tyre manufacturers, our accounting staff are familiar with and interface using client systems such as SAP.

First in first out
To ensure your tyres are being used with the maximum warranty
period Tytec Logistics undertake a "First In - First Out" policy from all
our storage facilities.

All Tyres Inspected for Damage
All tyres arriving at Tytec Logistics storage facilities are inspected for damage by our trained operators. In the unlikely event that damage has occurred a full damage report is completed and passed on to the appropriate personnel for resolution.