Logistics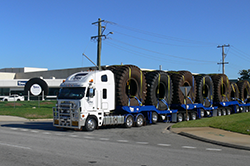 We only freight
OTR Tyres

Tytec Logistics - Your OTR Tyre handling specialists
Logistics

Overview

Tytec Logistics is a specialist OTR tyre logistics and storage provider, operating throughout Australia. Last year we moved over 30,000 OTR tyres, across more than two and half million kilometres from our depots in NSW, QLD, SA and WA. Our depots have combined more than 100,000m² of bitumen hardstand dedicated to OTR tyre storage.
The innovative engineering and design concepts of our trailers effectively addressed one of the most significant issues of transporting OTR tyres. Curfews regarding out of gauge loads.
As the cornerstone of our business, this level of solution based intelligence is applied to all aspects of our operations. Our primary focus is the elimination of risks and problems associated with OTR tyre logistics, via:
A robust portfolio of OH&S policies and procedures
Regularly reviewed and updated to incorporate changes in tyre sizes, aspect ratio's and weights as well as amendments to road transport legislation.
Daily load manifest meetings
To account for any last minute changes in client requirements and confirm your OTR Tyres are delivered on time, where you need them.
Features

Commitment to service
Latest equipment and technology
Industries safest trailers with no crush zones
24/7 movements
No pilot escort vehicles required
National Heavy Vehicle Accreditation
IAP Tracking System
Onboard Computer Weighing System
Tyre handling equipment used at all times
Capacity to transport 22 - 40.00R57 tyres at one time
Massive in guage capacity for up to 63" tyres
Quick and easy loading and unloading at your mine site freeing up tyre equipment and personnel
No subcontractors used, all staff trained in Tytec Logistics' standards and safety procedures
Tytec Logistics own and operate all equipment
All tyres transported to Manufactures Storage Recommendations
No chains are used
When you add it all up, why would you freight your OTR tyres any other way?