Logistics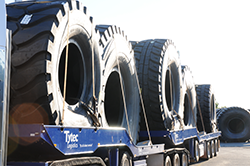 Ensuring the safest and most efficient service for you
Logistics

Management Tools

Tytec Logistics' trucks are fitted with tablet touch-screen PCs with our own custom developed truck and trailer safe weight loading software and are also fitted with IAP tracking system. The IAP tracking system gives Tytec Logistics the ability to give you realtime feedback on your OTR tyre load when requested.
Safe Weight Loading Software
Tytec Logistics trucks are fitted with tablet touch-screen PCs with custom developed and user friendly truck and trailer safe weight loading software.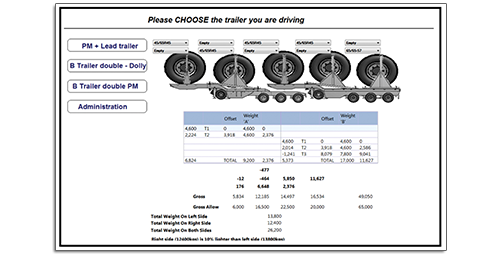 Using the touch screen tablet, drivers select the type of trailer and dolly configuration and specify the tyres that will be loaded to the trailer location. Based on the tyre and trailer selection, the software calculates the weight distribution and safety factors including weight over axle groups and side to side weight distribution to keep loads stable in transit. The software alerts the operator to any safety risks or hazards.
The weights used in the software can be adjusted by an administrator using the administration section of the application. The administration section allows the user to enter new tyres and maintain existing weights and loads.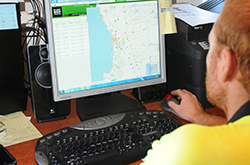 IAP Tracking
Tytec Logistics have implimented the IAP system on all our frieghters for realtime tracking of all loads. IAP stands for Intelligent Access Program. This is a voluntary program which provides heavy vehicles with access, or improved access, to the
Australian road network in return for monitoring Intelligent Access Program of compliance with specific access conditions by vehicle telematic solutions.